Lucky Robot Japanese Kitchen: A Treat for your Tastebuds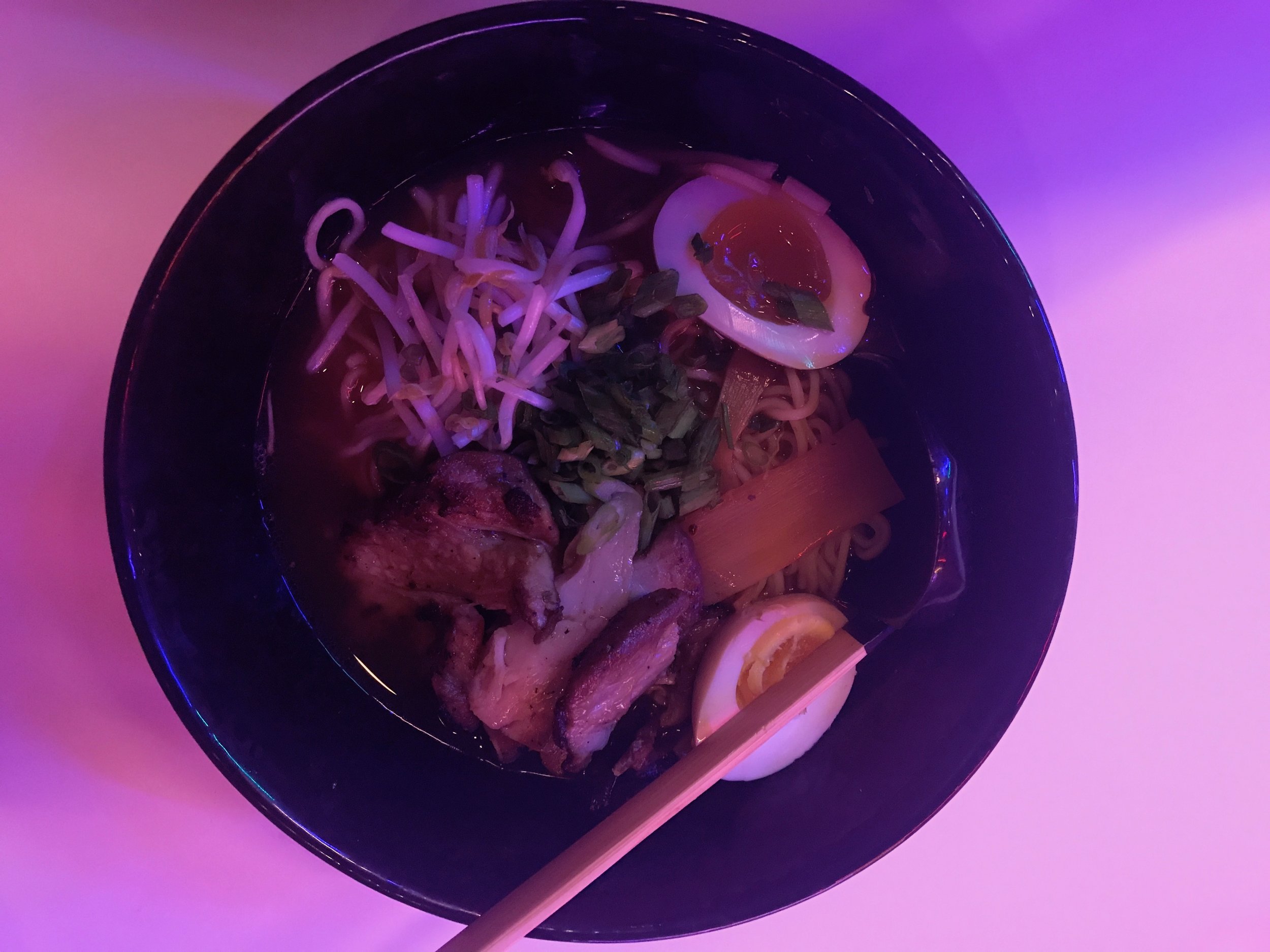 I won a $25 gift card on the Lucky Robot Instagram account, where they were celebrating 2,500 followers. All opinions are 100% mine.
Dinner under Neon Rainbow Lights
If you've got a colorful appetite for food and fashion, this stylish little Japanese kitchen brings the flavor and aesthetics to make you go, "YUM!"Right in the heart of South Congress Ave., you can find delicious hot and cool dishes at the Lucky Robot Japanese Kitchen. Come ready to enjoy happy hour with feisty drinks in hand, too.Here are some quick tips to your next trip to the Lucky Robot Japanese Kitchen:
Plan ahead for parking. You can park in front or around back. Walking or a ride share option might work best if you live or are visiting nearby.
Arrive before you're hungry, so if there's a wait, you aren't hangry. :)

(Trust me: it's worth the wait, so hang tight!)

Pick some favorites ahead of time and ask questions.

If an item is popular, it might not be available. Ask for the specials or the server's favorites. They've got great recommendations. We loved everything we ordered.

Be prepared to dress super cute and take as many pictures along the bright colored walls. I spotted so many of my favorite Kidrobot toys decorated and adorning the walls with splashes of fun. (Feel free to send your designer my way! haha)
Our Dinner Order
Steamed Pork Buns (You get 2.)This scrumptious duo of pork belly, spicy soy glaze, pickles, and cilantro serves you up with a smile. It takes a bit of the hangry edge off, especially if you're super hungry and need to level back off. It truly hits the spot, and you'll have plenty of room to devour more food or another round if you prefer.
Toro + Fig (If you love the House Special Raw Sushi and Sashimi item "Chiki Toro", order this and share between you and a date.)I'm a big fan of bigeye tuna, and this delicate layering of black mission fig, house cured pork lard, candied cashew, micro arugula, and red curry oil stacked up well. Curiously, I couldn't decide which element captivated my palette the most. If I had to choose, it probably was that pork lard that sealed the deal. I've never had anything like it, especially since this dish is only made here. I almost ordered another, but I remembered I had more food coming! :)
Maki Roll: Transformer If you arrive after 3pm M-F or visit all day Sat-Sun, you can order this roll. With a daily featured fish, how can you go wrong? Everything was so right about it; the pickled cucumber and carrot and lemongrass soy give it such a refreshing sensation. The tempura shrimp tasted perfectly crisp with the panko togarashi and always pairs well with avocado. I appreciated the spicy mayo to seal the deal for me here. I'd repeat all of this; I'm salivating at the thought, haha.
Robot RamenMy husband ordered this ramen dish, since it was pretty chilly outside in contrast to this week's hot weather. They had me at woodear mushrooms and ajitama egg. The broth brought me back to warmth and satisfied, without feeling heavy or super filling.Drinks: Robotrita (Pictured with the Maki Roll)You can order a single serving or a shareable option. Since it was our date night, we ordered the second option. It was a bit spicy and bright in each sip. The contrast of flavors paired perfectly with each item on the menu, too. The menu and pairings are mindfully crafted, and I could tell there was a great deal of detail that went into each menu offering. I will be sure to get even more adventurous the next time we visit.
Dessert: Mochi -- Mango  and Green Tea (Each flavor is served with 2 mochi)The mango and green tea were packed with flavor. Wow! The green tea stunned me and reminded me of the first time I had matcha, when I was studying abroad. And the mango? It tasted like the ones fresh off the trees back home in Miami. It was a win-win.Overall: 5/5. It felt like each dish had everything it needed to surprise and delight the palette and appetite in mind. I can't wait to go back!XoXo Kitty